Latest news in the world of Judo within the Yorkshire and Humberside area. 
Have some interesting news from your club? Let us know and we'll share it here.
The year 2016 seems to have just passed in no time at all and we are now preparing to take on the challenges of the BJA proposed changes for 2017.
This year has been reasonably successful with many Judo players from our Area achieving success at all levels and we thank and congratulate them for that.
The squad which took part in the trip to Stuttgart, Germany contained players of different abilities but they all did the Area proud and made it a highly successful trip. Again the team spirit and behaviour was impeccable. We must also remember to thank the coaches that went.
Some difficulties had to be overcome when planning and putting on events and we are constantly reviewing them. In general with the attendance of the players and commitment of officials (i.e. Referees, Competition Controllers etc.), they were reasonably successful.
The on-line entry system has proved to be a big bonus. We borrowed the BJA's referee's videoing systems for the Ranking Event but the Area is still reviewing its suitability.
We must thank the players for the hard work they have put into their training throughout the year. The squad sessions at Goole have generally been well attended and it has again provided a facility for coach revalidation.
I hope all members will continue to use the Y & H Web site, now well established as the means of timely communication.
I personally would like to thank the members club officials, Counties, Area committee members and all officials who have supported us this year. I hope they will continue to make 2017 even more successful.
Colin Cleavin
Yorkshire & Humberside Judo Chairman
Written by

Administrator
When organising club events (eg competitions) please contact the Y&H area to let us know about your plans so we can work with you to minimise risks of events clashing within the area.
Everyone wants as much choice re local events as possible, by talking to the area committee we can maximise the number of events in the area without forcing players to choose between clashing events when they might be able to do both.
Written by

Administrator
This year the Doug Crane award was presented to Eric Theaker for his tireless efforts in the area.
 The trophy was presented to Eric (on the right) by the Yorkshire & Humberside chair, Colin Cleavin.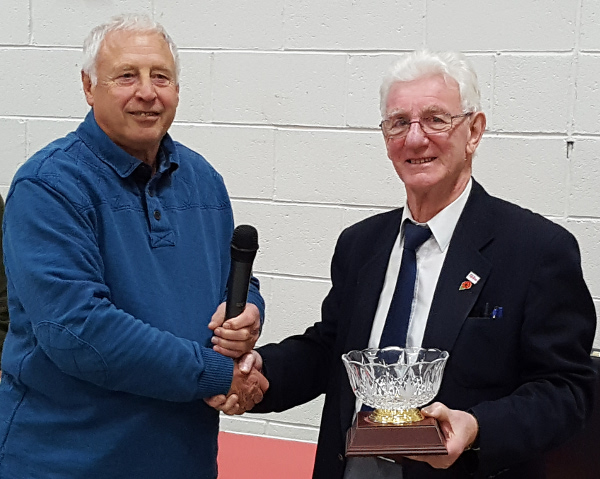 Written by

Administrator